Riverside Car Accident Attorney
Car accidents are unexpected and have the potential to cause life-altering injuries in Riverside, CA. Vehicle crashes are among the most common causes of personal and accidental injuries. In California, vehicle accidents follow at-fault rules, making it essential to prove who is at fault for a car accident. Injured parties can then file with the insurance provider of the driver who caused the accident for damages like medical costs, property damage, and lost income.
However, an insurance claim is not always enough to cover the damages from a car accident. Injured parties may also need to file a personal injury claim for especially challenging injuries and losses. A Riverside car accident attorney is a valuable asset when filing an insurance or personal injury claim to hold the at-fault driver accountable.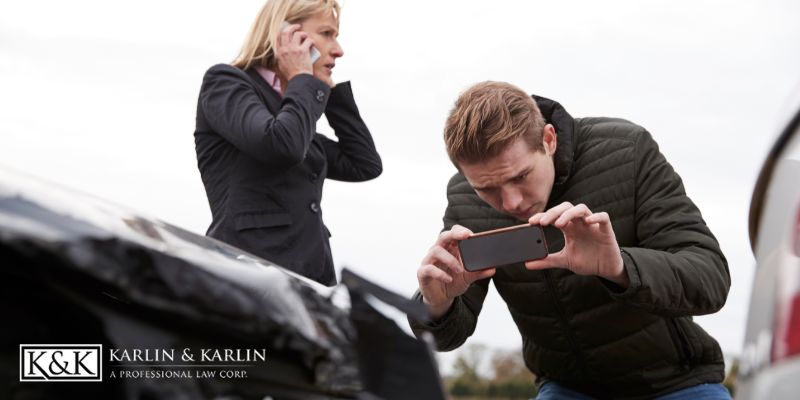 Advocating for Injured Drivers in Riverside
At Karlin & Karlin, our attorneys want to represent you after a car accident. We understand how stressful it is to be involved in and injured in a car accident. We have worked for years representing the individuals in our community and are proud to be a leading firm for legal representation in the Riverside area. If you were injured because another driver or party on the road failed their duty of care, you deserve compensation.
Car accident claims can be complex, particularly when you are dealing with the pain and recovery of severe injuries. You may be unsure if you should file a personal injury claim on top of an insurance claim. When you work with the attorneys at Karlin & Karlin, we can answer these questions. We can negotiate with providers on your behalf, increasing your chances of a higher settlement. If the proposed settlement is not in your favor, we can advocate for your needs in litigation. It's important that we fight for the compensation you deserve. Our attorneys want to give you the legal support and care you need.
The Importance of Liability in a Riverside Car Accident Claim
In order to file an insurance claim or personal injury claim, you have to determine who is at fault for the car accident. This is frequently the other driver, although it could also be a car part manufacturer, a commercial vehicle's employer, or a pedestrian or cyclist on the road. Before you can claim compensation in a claim, you have to prove that a party was at fault and can be held liable for your accident. Your Riverside personal injury lawyer can help investigate the accident, determine fault, and hold that party accountable. Accidents caused by other drivers are frequently caused by one of the following reasons:
Distracted driving. This is one of the main causes of traffic accidents. It includes texting, eating, or otherwise being inattentive to the road. An attorney may need to obtain cell phone records, CCTV footage, or eyewitness testimony to prove distracted driving.
Driving under the influence (DUI). Driving while under the influence of drugs or alcohol is illegal and incredibly dangerous for everyone on the road. When a driver causes an accident under the influence, they will be facing civil penalties from those they injured and criminal penalties. Criminal penalties include license suspension, fines, and jail time. When a DUI results in a crash, injuries, or wrongful death, penalties are likely to be more severe.
This increases the chances of an accident by limiting the time a driver has to react to road changes. It also worsens any resulting accident because the vehicle is moving more quickly. Speeding is more likely to lead to catastrophic injuries.
Moving violations. An accident can easily occur if the driver fails to follow the flow of traffic. This may include failing to yield the right-of-way, turning illegally, or ignoring stop lights and stop signs.
These negligent or reckless actions can show that the other driver was at fault for the accident. Your attorney is a necessary asset to obtain evidence of these actions through eyewitness testimony, police reports, professional testimony, CCTV footage, and physical evidence. At Karlin & Karlin, we take the time to look over each aspect of the car accident to help prove liability. That way, the responsible party can be rightfully held liable for your damages.
What Damages Are Claimable in a Personal Injury Claim?
State law allows an injured party filing for a personal injury claim to claim all economic losses that were a direct result of the accident and injury. Though many people may be able to calculate the clear damages from property damage, medical bills, and lost income, they may forget to calculate long-term damages. If you do this, you may be losing out on a significant amount of compensation that you deserve.
If you accept a settlement that doesn't cover your damages, you are unable to claim those damages in the future. Your attorney understands the long-term costs of personal injuries and car accidents. They can help you calculate the true financial impact the claim should cover. The economic damages that are available in a personal injury claim may include:
Medical treatment expenses. The party that is at fault for the accident can be held liable for any medical care necessary to care for injuries until you reach maximum medical improvement. This includes past medical bills and future ongoing care, including likely complications.
Lost income. The at-fault party can be held liable for any lost income that you lost during recovery.
Lost future income or earning capacity. The other party can be held liable if you are unable to continue working at all or working in the same capacity due to your injuries. If you are not earning as much as you were or are no longer able to work as much, you may be able to hold the other party liable for these losses.
Property damage losses. A portion of property damage is often covered by the other driver's insurance. If the damages are more significant, any additional costs may be included in your personal injury claim.
Many individuals filing for economic damages underestimate the amount they can claim. They also may be unaware they can claim non-economic damages in the form of pain and suffering damages. There is no limit to the amount of pain and suffering damages you can claim in certain California personal injury claims. An effective attorney will know how to leverage pain and suffering for an appropriate and fair amount while maximizing the compensation you gain.
Pain and suffering damages are meant to provide monetary compensation for physical pain and emotional trauma, such as post-traumatic stress disorder (PTSD), disfigurement and scarring, and other long-term physical and mental pain. Your attorney will know how to handle non-economic damages to seek fair compensation.
Why Do I Need a Riverside Car Accident Lawyer?
It is technically possible to handle an insurance claim or personal injury claim without an attorney. However, it's likely to be slower, more stressful, and less likely to earn you the maximum compensation you are owed. An attorney can provide you with legal guidance, answer your questions, and handle difficult legal issues as you recover from your injuries.
Your legal team can advocate for your interests with an insurance carrier and in negotiations or litigation for your personal injury claim against the at-fault driver. When an attorney negotiates with an insurance provider for you, the provider is less likely to try underhanded tactics to limit the compensation they owe you. Your attorney will know how to handle those tactics if they are used. An attorney can calculate the full extent of your damages and manage legal deadlines so that your claim has the greatest chance of succeeding.
How Pure Comparative Fault Affects Car Accident Claims
When you believe you may be partially responsible for a car accident, you may think this means you can't file for damages. This isn't always the case. In California, personal injury claims work under pure comparative negligence laws. Pure comparative negligence laws mean that even if an injured party is partially responsible for the accident, they can still file a claim and successfully cover damages. This is true as long as the party's shared fault is not more than 99%.
During a personal injury claim, the judge will assign fault between the two or more parties in an accident. If you are determined to be 15% liable for an accident, the final amount of compensation you earn will be reduced by 15%. The percentage a court determines in a personal injury claim could also impact an insurance claim. If you think you may be found partially liable for an accident, you'll want to work with an experienced personal injury attorney. If fault is not clear in an accident, there is a good chance that both parties in the accident will argue the other's fault. An attorney can work to limit your liability, maximizing the compensation you get from your claim.
Car Insurance Minimum Requirements
All drivers in California are required to have a certain minimum coverage of car insurance. The state-required minimum is:
$15,000 for bodily injuries or death to one person
$30,000 for bodily injuries or death to more than one person in a single accident
$5,000 for property damage
If you are in an accident with a driver who is uninsured, you will have to file a personal injury claim if you don't have uninsured driver coverage. If the other driver is insured, but your damages exceed their coverage, you will want to file a personal injury claim.
Riverside Car Accident Lawyers FAQs
Q: What Should I Consider When Hiring a Car Accident Lawyer?
A: You want to be sure that the attorney you work with has the experience necessary to handle your claim. If you are in a car accident, you need an attorney with personal injury and car accident claim experience and a strong track record of success. You also want to feel comfortable with an attorney. If you have an initial meeting with an attorney and don't feel like they're listening to you or effectively communicating, you'll want to find an attorney who will make you feel at ease.
Q: Should I Hire An Attorney After a Car Accident in California?
A: It's in your interest to work with an attorney as soon as possible after being involved in a car accident. You are not required to have legal representation while filing an insurance or personal injury claim, but it makes things much easier for you. It also makes the process more efficient and more likely to be successful. Your attorney can negotiate with the insurance carrier for you and negotiate your personal injury settlement. They can calculate a fair amount of compensation for your economic and non-economic damages, and you can focus on recovering.
Q: How Much Do Accident Attorneys Charge in California?
A: At Karlin & Karlin, our personal injury claims are handled on a contingency fee basis. We know that when you're handling medical bills, lost income, and other financial damages, the cost of legal representation can be overwhelming. By using a contingency fee, we can provide legal
representation to those who need it. You will not have to pay upfront or continuing legal fees for our legal services. If we are able to secure you compensation, we'll charge a percentage of that settlement. If we can't get you compensation for any reason, you don't owe us.
Q: How Long Do Car Accidents Claim Last in California?
A: This relies on several factors, including whether fault is clear in the accident and if you have effective legal counsel. To fully recover from a car accident, it's likely you will need to file an insurance claim and a personal injury claim. If the fault for the accident is very clear, the at-fault driver does not try to deny fault, and you have strong legal counsel, the claims may only take a few weeks. If you have significant damages to calculate and negotiate for, this may make the process take longer. You can talk with an attorney to determine how long your unique situation will take to resolve.
Contact an Experienced Car Accident Law Firm
At Karlin & Karlin, we want to give you compassionate and personalized legal support after a difficult car accident. We understand how frustrating it is when you're injured because of another driver's negligence. Reach out to our team today to see how our trustworthy Riverside attorneys can help with your personal injury claim.