Perris Car Accident Attorney
Car accidents are one of the most commonly cited causes of accidental injuries in the United States, and they occur every day in the Perris area of California for many reasons. Whenever one driver causes an accident with another, they become liable for all the damage they inflict. Unfortunately, some car accident victims are left permanently disabled and experience a wide range of economic harms from these incidents, often leaving them wondering how they can recover as fully as possible.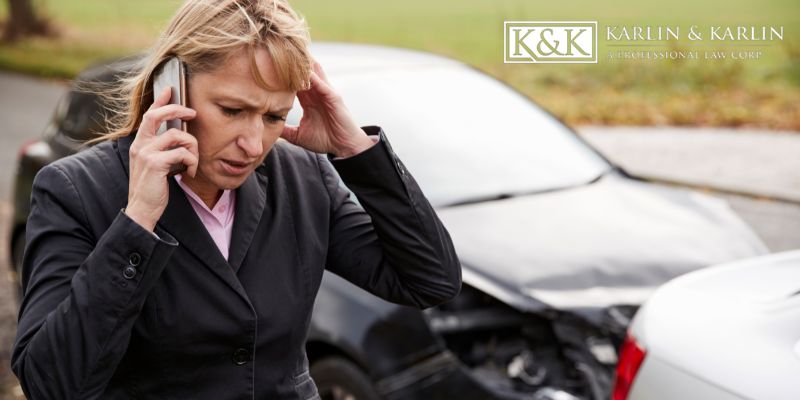 Helping Car Accident Victims Recover in Perris, CA
The right Perris car accident attorney is an invaluable asset in this situation. When you have legal counsel you can trust on your side, you are not only more likely to succeed with your recovery efforts but also more likely to maximize any compensation you obtain from the at-fault driver. The attorneys at Karlin & Karlin have a long history of successful cases in the Perris area because of our dedication to client-focused legal representation. When you believe another driver is responsible for causing your recent accident, we can help hold them accountable for the harm they've done.
How to Prove Fault for a Car Accident in Perris
Before you can recover compensation for the damages you suffered in your recent accident, you must prove exactly how it happened and identify the driver or drivers responsible for causing it. Most of the car accidents reported in the Perris area happen because of negligence, and a few of the most common examples of negligence that can cause a serious accident include:
Distracted driving, one of the leading causes of car accidents throughout the United States each year.
Speeding, which is not only a major contributing factor to the number of accidents each year but also the severity of resulting damages. Excessive speeding can potentially result in reckless driving charges, especially if the at-fault driver causes an accident.
Moving violations. All drivers are expected to follow the rules of the road, and respect posted traffic signals. Illegal turns, running red lights, and failure to yield the right-of-way are all common moving violations that can easily cause accidents.
Vehicle maintenance issues. Drivers are expected to address mechanical issues with their vehicles as soon as they become apparent. Failure to do so can lead to liability for resulting damages, or liability could fall on a mechanic if they performed faulty maintenance on a vehicle.
Proving negligence in any civil suit requires proof that the defendant owed a duty of care, breached that duty of care, and consequently caused the plaintiff's damages. Alternatively, you may need to prove the defendant caused your accident through an illegal act. The most common example of this reported in the Perris area is driving under the influence (DUI) of alcohol or drugs. Penalties for DUI generally include a fine, driver's license suspension, jail time, and other penalties assigned at the discretion of the sentencing judge. However, when a defendant has caused bodily harm or death, their penalties can increase significantly.
Recovering With Auto Insurance in Perris
After proving fault for your accident, you can proceed with claiming compensation for your damages from the defendant. This usually begins with an insurance claim. Every driver in the state is legally required to carry auto insurance, and their coverage must account for property damage and bodily injury liability.
Dealing with insurance companies is rarely easy or pleasant, and there is no guarantee that insurance alone will be able to cover your losses. Your Perris car accident attorney can confront an insurance carrier for you, ensuring they treat your claim fairly and process it in good faith. Once you receive your settlement check, any outstanding damages that the insurance did not cover can be claimed through a personal injury suit.
Building a Personal Injury Claim for a Car Accident in Perris
The purpose of a personal injury claim is to hold a defendant accountable for the damages they caused and for the plaintiff to recover compensation for the damages they suffered. You must prove fault as your first challenge in your personal injury claim, and then you must prove the extent of the damages you suffered. These damages can include direct economic losses as well as non-economic damages, specifically your pain and suffering.
An experienced Perris car accident attorney can help identify all the immediate and future losses you can include as damages in your personal injury suit. For example, your injuries may not only require extensive immediate care but also ongoing rehabilitative treatment. The defendant is liable for all associated losses, and the same rule applies to your lost income. For example, the defendant could be liable for your lost wages and your capacity to earn money in the future if you are unable to return to work because of the damage they caused.
When it comes to pain and suffering compensation, California law does not place a cap on the amount you can claim in a vehicle accident case. You have the right to seek as much as you deem to be appropriate to reflect the severity of your condition after your accident. If you suffered any permanent injury, the pain and suffering compensation you win from a successful claim could amount to much more than the total of your economic damages.
Karlin & Karlin approaches every vehicle accident case with the goal of helping our clients recover as fully as possible from their damages. We have years of experience helping car accident victims prove liability for their losses, uncover the full extent of their claimable compensation, and guide them through the proceedings necessary to ensure accountability. Whatever your case entails, you can trust our firm to guide you through your proceedings as efficiently as possible.
Car Accident Lawyer FAQs
Q: Should I Get a Lawyer for a Minor Auto Accident?
A: Hiring legal counsel after a car accident is not strictly required by law, so it is possible to pursue compensation for your damages on your own. However, if your accident involved any damages more significant than cosmetic damage to your vehicle or if you sustained any serious injuries, it is crucial to have a seasoned Perris car accident attorney represent you in your recovery efforts. They can ensure you secure appropriate compensation for your damages no matter what legal proceedings you face.
Q: How Much Compensation Can I Claim for a Car Accident in Perris?
A: If you can prove another driver directly caused your recent accident, you have the right to seek accountability for all damages they caused. These damages may include your medical bills, future medical treatment costs, lost income, lost future earning capacity, property damage, and pain and suffering. You may be able to fully recover from a minor accident through insurance alone, but if you suffered serious harm, a personal injury claim is likely to be necessary. An experienced Perris car accident attorney can provide an estimate of your case's total potential value.
Q: How Long Does It Take to Recover Compensation for a Car Accident?
A: The timeline of the recovery efforts you pursue following a car accident will vary depending on several factors. If you can recover all your damages through insurance and have a good attorney representing you, it may only take a few weeks for you to receive your settlement check from the at-fault driver's insurance carrier. If you need to file a personal injury claim, this will take longer. Settling a personal injury suit requires only a few weeks, whereas litigation could take several months to more than a year.
Q: What Happens if I Share Fault for Causing the Accident?
A: Under California's pure comparative fault law, you can bear partial liability for a car accident and still recover compensation. Under the comparative fault rule, each liable party is assigned a fault percentage. These percentages indicate the share of the claimed damages they are responsible for paying. When a plaintiff shares liability, their fault percentage is deducted from their total case award. For example, 10% fault means losing 10% of the case award. Your Perris car accident attorney can help minimize your comparative fault percentage.
Q: What Does It Cost to Hire a Perris Car Accident Attorney?
A: Most attorneys representing personal injury clients in the Perris area operate on contingency. This means the client only pays a fee to the attorney if and when the attorney wins their case, and the fee is a percentage of the total case award. This eliminates any possibility of the plaintiff paying more for legal counsel than they win in compensation for their losses. Always take time to verify the attorney's fees before hiring them to represent you.
The team at Karlin & Karlin has years of experience in a wide range of car accident cases for clients in the Perris area, and we are confident in our ability to provide comprehensive and responsive legal counsel for your impending car accident case. If you are ready to learn what our team can do for you in your recovery efforts, contact us today to schedule a free consultation with a Perris car accident attorney.