Lake Elsinore Personal Injury Attorney
If you've been injured in an accident of some kind, then you're aware of the costs that can be involved. Working with a Lake Elsinore personal injury lawyer can give your case the clarity and credibility that it needs. At Karlin & Karlin, we help injury victims seek what they are owed.
Medical bills, the cost of repair or replacement of property, and intangible costs like the pain and suffering or emotional distress you might be dealing with all take their toll on the injured. Compensation for those costs is owed by whatever party was at fault for the injury. More often than not, though, to get that compensation requires some firm negotiation and potentially even a court case.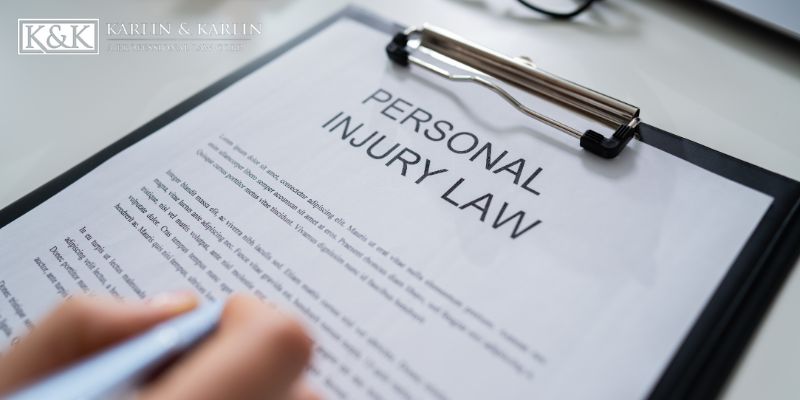 How Fault Is Proven in a Personal Injury Case
In pretty much any personal injury case in Lake Elsinore, CA, whether a car accident, medical malpractice, a dog bite, or some other injury, the same basic form of proving fault is followed. Your lawyer will investigate your case and use things like the evidence they find, eyewitness testimonies, expert witness testimonies, and anything else that may be relevant to prove the three elements of fault or negligence. Those three things are:
Duty – Your lawyer must show that in the situation in which the injury occurred, the defendant had a duty to care, meaning a responsibility to avoid putting those around them at unnecessary risk. They had a duty to action or inaction in a way that would avoid placing others in harm's way.
Breach – Once a duty has been established, they must demonstrate how the defendant failed to live up to their duty. This generally means showing what the defendant did or didn't do and comparing that with what they should or shouldn't have done. Of course, there are limits to the duty that any one person owes another, and that's why there is a reasonable standard regarding what would have been expected of them.In general, a breach of duty occurs once someone's behavior extends beyond what a reasonably careful person would have done in the same situation. In more specialized situations, such as medical malpractice, a peer of the defendant may be called in to describe the duty present in the situation and how it was breached.
Cause – Lastly, your lawyer must show that the breach of duty led directly to the injury that was suffered. If the breach led to a car accident, then your injuries must be from that accident. The more nuanced or specialized the situation, the more challenging it can be to make this clear, and again, expert witnesses may be helpful in describing the connection.
What Is Compensated in a Personal Injury Case
The costs that are covered and compensated for in a personal injury case must be able to be traced back and connected to the injury that was suffered as a result of the breach of duty. That is the full connection that describes liability. The court refers to the payout, which covers these costs as damages. These damages are paid in typically two, and occasionally three, categories:
Economic – These damages compensate for those things that have a financial component and are often very easy to calculate. Things like medical bills, lost wages, and property repair are covered in this category of damages. Future costs, in the case of more serious injuries, are covered as well. Things like lost earning capacity and future medical expenses.
Non-economic – For things that are less materially evident, there are non-economic damages. These cover the psychological or emotional costs that come from an injury, such as mental anguish, loss of enjoyment in life, and pain and suffering. The compensation won't fix these issues, but it can make other parts of life less stressful and leave room to work on these things.
Punitive – These are rarely paid except in cases where the breach was malicious or particularly egregious. They are meant to serve as a punishment for that behavior.
Personal Injury Law FAQs
Q: When Do I Need to File a Personal Injury Claim?
A: The deadline for filing a personal injury claim is set by the statute of limitations. In the state of California, the standard statute of limitations for personal injury claims is two years. However, there are a few possible exceptions to this rule. Depending on the type of injury, when the injury was discovered, who the defendant is, or if the victim was a minor, the deadline may be either extended or more limited.
While a lawyer can help you understand when a claim may need to be filed in your case, it's generally a good idea to get a lawyer involved as soon as possible. The more time they have to prepare your claim, the better the outcome is likely to be.
Q: What Should I Do If I'm Injured?
A: If you're injured in an accident, there are a few things you can do that can help your case and protect the damages that you could win. Some of these things include:
Get Your Injuries Assessed – If your injuries are serious, there's a good possibility that emergency services will be called. It's important to let paramedics check for any traumatic injuries, but even if they clear you, it's a good idea to visit a doctor for a full medical examination. There may be less dire injuries or even hidden brain injuries that they didn't catch because they weren't initially detectable.It's important to make sure you get a full assessment soon after whatever incident caused the injuries because a delay could be used to argue against their seriousness or if they are related to the accident.
Document the Scene and Beyond – If your injuries allow, or if you have someone else with you who can, it's very helpful to document the scene of the incident that caused your injury. Anything that you think could be valuable is worth making a note of.It's better to take more than you think is necessary because your attorney can always pick out what is most valuable later. You also want to be sure you are tracking anything like bills or other information that demonstrates the costs of the injury.
Say the Minimum – What you say about the incident and injury is something that the defendant's team will be paying close attention to. Anything you say that could be thought of as accepting blame for what happened may be later used against you to argue that you were at fault for the injuries. In particular, be very careful when speaking with insurance agents, and when possible, let your lawyer represent you.
Q: Should I Take My Claim to Trial or Settle?
A: There are reasons to consider both the possibility of settling a personal injury claim and taking it to trial. It's true that a trial may offer the maximum recovery that you could receive. However, many settlements are not necessarily much below that maximum, as it could be obvious to the defendant's side that there is not much of a chance of winning, and taking it to trial would be a wasted expense.
Even with the possibility of being a little less, there are still some real benefits to settling instead of a trial. One of these benefits is that it gets you your payout sooner rather than having to wait months or even years for the trial process to be completed. Another benefit is that you avoid the risk of a trial not going your way, as a settlement is a guaranteed payout.
Q: Is There a Cap on the Damages I Could be Paid?
A: In most cases, there is no cap on personal injury claims in California. The one exception to this is the cap on non-economic damages in medical malpractice claims.
However, while there are no other caps, it is possible that your payout could be negatively impacted by California's system of comparative negligence. This allows the defendant to present evidence of the plaintiff's fault in the injury. If they are successful, then each party is given a percentage by the court that they believe fairly represents each party's share. Given that it is pure comparative negligence, each party is able to collect damages from the other based on their share of fault.
Suppose an accident results in 80% of the blame being given to the defendant and 20% for the plaintiff. Then, the plaintiff can only collect 80% of their damage award from the defendant, and if the defendant had damages, they could collect 20% of that award from the plaintiff.
We Can Make the Case for You to Get What You Deserve for Your Injury
The other side of a personal injury claim is not just the person or institution that caused your injury. It's usually that person's insurance provider and their team of lawyers. It can be intimidating to face this kind of opposition. Fortunately, you can increase your chance for a successful outcome by working with a skilled, experienced personal injury lawyer.
At Karlin & Karlin, we're used to taking on these kinds of opponents and standing up for our clients. We can negotiate a strong settlement for our clients, and if that's not possible, take them to court. Contact us to discuss your case.