Glendale Personal Injury Attorney
If you suffer a personal injury in Glendale, CA, your life has likely significantly changed. You may be dealing with healthcare costs to recover from your injury while losing income by being unable to work. While there are many causes of personal injuries, all defendants who caused the injury should be held responsible. Allow our Glendale personal injury lawyers to help recover potential damages from the defendant. Compensation can provide you some relief during this overwhelming time.
An experienced attorney knows who to sue and how to present the greatest case possible. They can negotiate for your interests and maximize the damages that are covered. Call today to learn more about how to get started filing a Glendale personal injury claim today.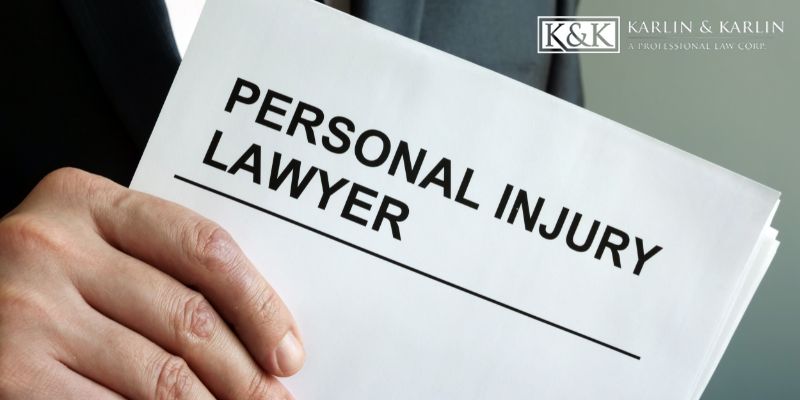 Advocating for Victims of Personal Injuries
At Karlin & Karlin, we can represent you after a personal injury. You may have been hurt in a car accident or injured because of a defective product. Our attorneys have experience with several types of personal injury claims and have proudly represented individuals in Glendale and the surrounding community for many years. If another person or party was at fault for your injury or losses, they should be held accountable. Our attorneys want to fight for your interests and prove fault in your personal injury.
Establishing Liability for A Personal Injury
The first step to recover from a personal injury is proving the defendant is responsible for the injuries. A defendant is liable when they act negligently or intentionally, and that act results in the plaintiff's injuries. If the defendant is deemed liable, it means they are legally and financially responsible for the injuries and damages caused by their actions.
Intentional Acts
When a defendant acts intending to commit an act against the plaintiff, they are responsible for any injuries resulting from their actions. The defendant does not have to plan to injure the plaintiff to be held accountable for the injuries.
A defendant had intention when they intended the consequences of the act, or they knew what would result from their actions. Once the act occurs, the defendant is responsible for anything that results from the initial act, including personal injury or property damage.
Negligence
A defendant acts negligently when their actions are unreasonable given the circumstances of the situation. Under California Civil Code §1714, a defendant is liable when they act with a lack of ordinary care or skill, and their actions result in personal injury to the plaintiff.
The following must be proven to establish negligence:
The defendant owed the plaintiff a duty of care.
This duty was breached.
An injury resulted from the breach.
There was a foreseeable risk of injury.
There are legally recognizable damages from the injury.
The defendant's actions are judged by what an average or reasonable person would have done in the same circumstances. If the defendant acted unreasonably and the plaintiff's injuries resulted from their actions, the defendant is liable. The plaintiff must establish that the defendant's negligence caused the plaintiff's personal injury, so contacting a Glendale attorney could help the plaintiff prove their case. An attorney has the resources needed to investigate the accident and determine evidence that proves negligence and fault.
Plaintiff's Negligence Reduces Overall Recovery
The plaintiff does not escape responsibility simply because their injury resulted from the defendant's actions. Under state law, the plaintiff is held liable for any contribution their actions had to their injuries. Therefore, a plaintiff's negligence is taken into account when final damages are calculated.
The state's law is a pure comparative negligence standard. Even if the plaintiff is determined to be partially liable, that doesn't prevent them from obtaining some amount of compensation. As long as their partial liability is 99% or less, they can still recover damages. The court will divide the fault of an accident between the two or more parties. Under pure negligence, a plaintiff's recoverable damages are reduced in proportion to the plaintiff's contribution to the injuries. Therefore, if the plaintiff was 25 percent negligent in the incident, their damages are reduced by 25 percent.
The same negligence and intentional standards for proving a defendant is at fault for the plaintiff's injuries apply to the establishment of if the plaintiff contributed to the incident. The burden of proving the plaintiff contributed to the incident is on the defendant. An experienced attorney in Glendale could help minimize plaintiffs avoid comparative negligence during their personal injury lawsuit. If you are unsure how fault would be determined in your personal injury case, talk with a personal injury attorney. They can help you determine how to limit your liability and maximize your compensation.
Types of Personal Injury Claims We Handle
At Karlin & Karlin, we have experience with several forms of personal injury claims. This includes:
Car accidents. These are among the most common forms of personal injury claims. Car accidents can involve drivers, pedestrians, bicyclists, and motorcyclists.
Slip and fall accidents. A private, commercial, or governmental property owner has the responsibility to ensure reasonably safe premises. If they fail to do so, serious injuries can occur from hazards on the grounds.
Premises liability. Several types of accidents can happen on-premises, including animal attacks, improper security, or a lack of safety warnings.
Defective products. These can result in significant injuries. Manufacturers, designers, sellers, or distributors may be held liable.
Medical malpractice. Medical professionals have a high standard of care for their patients. When a healthcare provider is negligent, the injuries to patients can be significant.
Dog attacks. Dog owners are held strictly liable for any damage their dogs do.
If a loved one passes away because of someone else's negligence, surviving family members can file for a wrongful death claim. This is made in place of the personal injury claim the individual is unable to file, and it could recover lost family income and funeral and burial costs.
Claimable Damages in a Personal Injury Claim
Under California law, the plaintiff can claim all economic loss that directly resulted from the accident and the defendant's negligence. These economic damages could include:
Medical bills. The defendant is responsible for any current or anticipated medical care needed to treat the plaintiff's injuries. These expenses are anything reasonable for the plaintiff to reach maximum medical improvement.
Lost income. If the plaintiff's injuries prevented them from returning to work during recovery, the defendant could be held liable for those losses.
Future earnings. The defendant can also be held liable for future lost income. If the plaintiff can't return to work because of permanent disability or can only return in a limited capacity, the defendant is liable for that lost income.
Property damage. If there were any additional damages from the accident, the defendant could be held liable.
An attorney can help you calculate these damages, as well as non-economic damages like pain and suffering.
Glendale Personal Injury Lawyers FAQs
Q: What Do Most Personal Injury Lawyers Charge?
A: Many attorneys charge a contingency fee for personal injury claims. At Karlin & Karlin, we believe that anyone harmed by a personal injury should be able to get effective legal counsel. We work on a contingency fee basis because we understand how many financial stressors you are suffering in addition to physical and emotional pain. We only get paid if we secure your settlement. If we can't get you the compensation you deserve, you don't owe us upfront costs or legal fees.
Q: What Should I Expect From My Personal Injury Lawyer?
A: A personal injury attorney and the rest of your legal team should handle your legal claim so that you can take the time to recover. Your attorney will investigate the event of personal injury and determine the at-fault party. They will also calculate the economic and non-economic damages you deserve, negotiate a fair settlement, and be willing to take the claim to court if the settlement is not in your favor. They work to maximize the compensation you receive.
Q: Do I Need to Hire a Personal Injury Lawyer?
A: It is possible to file a personal injury claim without an attorney. Without an attorney, however, the process will likely take longer, be more strenuous, and you will likely not receive as much compensation. Your attorney's goal is to handle the legal complexities for you so that you can recover. They've handled many personal injury claims before, so they understand how to maximize your compensation in a way that reflects the damages you suffered. A personal injury claim is more likely to be successful when handled by a legal professional.
Q: How Do I Find the Right Personal Injury Lawyer for My Case?
A: To find the most effective personal injury lawyer, you want to ensure they have experience in personal injury claims like yours. You may be dealing with defective products, premises liability, dog attack injuries, or another form of personal injury. Your attorney should have experience and success with your unique type of personal injury claim. Review the feedback attorneys have received from past clients and determine the firm's reputation. Arrange a meeting or open communication with the attorney. An attorney who is unable to communicate with you or does not make you feel comfortable is likely not an attorney you want to defend your interests.
Meet with a Glendale Personal Injury Attorney
You should not let a defendant get away with causing your life-changing injuries. The law provides you an avenue to pursue damages and hold the defendant responsible for their actions. Start with hiring a skilled Glendale personal injury lawyer to help establish your right to recover damages.
Consult with our firm today to determine the right path to recover from your injuries. A skilled attorney could help you avoid liability while maximizing your recovery. Our team of experienced legal professionals may be the extra edge your case needs to be successful.